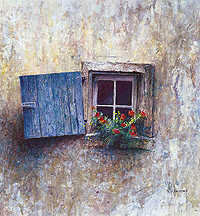 Witches Window by Staarrkatt
Witch's Window

This is a simple crafting project that nearly any one,
of any crafting level, can achieve a pleasing
end-product with.

Supplies: an old window frame, with or without glass
panes; possibly sand paper and/or paint (depends on
condition of window frame and your taste); base board
to attach frame to; a few screws; screwdriver of some
sort (one that fits the slots in the screws would be
most helpful!); and/or wood glue; decorations to suit
your taste, budget and current needs.

Search local salvage places for an old window that
pleases you in its shape, style, color. Color can be
changed with paint, but shape and style must be
pleasing to start with. Find one that fits your
budget.

Glass is optional - I actually prefer this without
glass because then you have the option of having
objects going thru the pane area.

If your window needs to be scraped, painted, or
otherwise spruced up, do that first.

Read the rest of this article and think a bit about
what you'd like to do. You may choose to add some cup
hooks, or perhaps a narrow shelf on each side of the
window below the upper set of panes to give you
additional area to put things on.

Now you'll need to make a major decision - where are
you going to put this? If it will sit on the sill of a
'real' window, or on a shelf or mantelpiece, etc., you
will need to add a base so your new window will sit
safely. Cut a board that is 6"-8" wide, (narrower if
it will sit on a narrow sill), the length of your
window and attach the two together with screws or wood
glue. If you use glue, let dry overnight. Paint the
base to match your window frame.

You may choose, instead, to hang your new window on a
wall to give the illusion of a real window. In that
case, make your base piece 3"-4" wide, and make sure
it is lined up with one side of the window frame's
base, so it will hang against the wall flat. Add hooks
to each side of the window frame at the top, with the
open part of the hook *down* and put a hook in the
wall, preferably on a stud, high enough so your window
will hang at the height you choose. Use chain (bought
at a lumber yard or hardware store - or even some
craft stores!) hooked over the hooks on each side of
the frame, to hang your window from the wall hook.

Now comes the fun part! Decorate! What is it that
says, to you, 'I am part you, of your beliefs.'?

Is it a feather you found? a shell that was gifted to
you? a collection of shells you picked up on a beach
someplace? a rock you just 'had to have' on a walk? a
cat (please find a stuffed or carved one - real cats
have a tendency to resent being required to sit still
when they don't want to! ::grins::). Is your friend a
bird? a lizard? even a frog? Or do butterflies speak
to you of the Air Spirits?

What about plants for the Earth Spirits? If you have a
black thumb, check out the wonderful world of silk
(not plastic! they don't look real!!) plants and
flowers. Check thrift stores or Goodwill or the
Salvation Army for pretty but inexpensive containers
if you need some.

What about a piece of silk or lace or a pretty scarf
to use as a 'window treatment'? (Try draping it over
just part of the top and down one side to represent
curtains.)

How about lighting? If you choose to use candles,
please be sure these are situated where they will not
cause a fire, and never, ever leave them unattended!
In fact, if you choose to use candles, please look for
*and use* a clear glass candle chimney to keep your
home safe - the Spirits of Fire do not always choose
wisely where they will dance! These chimneys will fit
over many of the smaller candle holders, or directly
on the top of the base of larger holders. You may also
find small battery-operated lamps that resemble
old-fashioned oil lamps. These are fun, and safe.

Water Spirits are a bit harder to honor in this
particular situation, since there isn't much room
here, but if water is your Element, you could look for
a very small fountain treatment. Or use sea shells to
represent the water. Perhaps some sea grass gathered
at the beach? or a collection of beach pebbles can
become the base for shell collection. Find a small,
inexpensive picture of the sea that fits one of the
bottom panes and carefully place it inside the frame,
then place your beach pebbles and shells in front of
it.

Once you start, you probably won't need any help from
me!

Design a new window set up for each sabbat or esbat -
or make one that pleases you and add accessories for
each celebration instead of changing the whole window.


Or really indulge - and make one of each!

In any event, when you are done, the window should
speak to you (and it does not need to please any but
you) of what you hold dear, in life, in love, in
spirit.

Now share your new creation with the Lord and Lady.