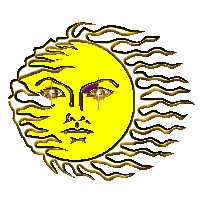 Litha and the Oak Moon
by GwyllionMoon

Again the Wheel turns and the Celtic month of Oak begins with the Full Moon of June. The Oak, great symbol of protection and healing reminds us as Crone's to use this celebration of the longest day and the shortest night as a base point to begin workings and teachings of Light and Spirit. For our students and for ourselves, Litha or Midsummer is a time to use Mugwart and other herbs to increase the light of knowledge and develop an awareness of all the wonder of Nature and our cosmos.

It marks the upward spiral of darkness into our days and heads us towards the future harvests. But for now, we shine in the moments of Father Light for it is His time to shine. Celebrate with mirrors and shiny objects that reflect your love for the Universe and what you have learned within this existence. Remember also, that a mirror will let you see your true self as others see you, and therefore Litha is also a time for awareness of ones path and self.

Think of the warmth you recieve from friends and family and how they "shine" in your life. Reflect your own wisdom into the eyes and ears of all you speak with when studying or practicing your own Magick.
Try meditation with water at a stream or lake or sea or simply use a large bowl to catch your own reflection.
See who and what you are. Study yourself. Be joyous in
what you see and feel. Shine like the Sun itself and let your rays of wisdom protect you always.

You are the Crone. You are a wisewoman and healer. You are a light. Remember that on Litha, your light shines for all to see and be amazed......

As you celebrate this Sabbat, try incorporating the following rite into your sacred space.....
"It is a time of light, a time to see,
As Father Sun shines down on me.
The longest day, the shortest night,
Father Wisdom shines his Light.
Crone I am, who looks to you,
Bless me now in all I do.
Oak protect me, make me wise,
Reflecting Magick in my eyes."

Blessed Be your Litha....Be wise, be strong and Protected!